It is difficult to imagine the 21st century without informational technologies. Computer skills are usually the first requirement for obtaining employment.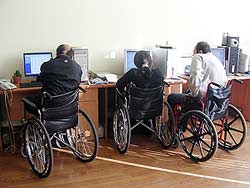 Unison holds a two month free computer training for people with disabilities (Windows, MS Office, Internet, E-mail, and basics of graphic design). The lessons are conducted twice per week. The groups of trainees consist of two to three people. David Babayan, IT Manager at Unison, conducts the training.

In 2008, thanks to the support of the Eurasia Partnership Foundation, one of our computers has been equipped with Arev software which enables visually impaired and blind people to participate in our computer training.

Due to the knowledge and skills acquired at Unison through this program, some of our alumni have successfully gained employment.

For more information, please call us at (+37410) 522170.