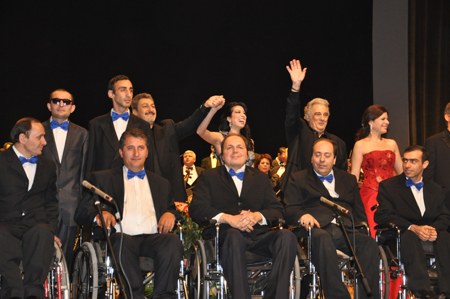 The Paros Chamber Choir is a unique musical group comprised primarily of people with disabilities. The Choir operates under the UNISON umbrella of programs and projects.

The Paros Chamber Choir was founded in 1993 at the Red Cross International Post-Trauma Rehabilitation Center (IPTRC). Since then, the choir has performed in Yerevan, throughout the regions of Armenia and overseas. Most notable was the international performance for the occasion of the 10th anniversary of Spitak Earthquake when Paros was invited by Georgian former president E.Shevardnadze to perform in Tbilisi (1998). Paros has also performed on tour in Lebanon (1997) and in France (2005), as well as successfully participated in international festival-competitions held in Great Britain (2000) and Italy (2003).

Paros has released two CDs. The Choir's performances and recordings have been recognized and appreciated by top musical performers around the world.

From 1993 until 2008, Vachagan Navasardyan was the Artistic Director and Conductor of the Paros Chamber Choir. Beginning in 2009, Raffi Mikaelyan was appointed to lead the Choir. Maestro Mikaelyan promises to build upon the Choir's successes and continue the march towards establishing the Paros Chamber Choir as an inspiration for people with disabilities and a strong beacon for Armenia.
The most recent achievements of Paros include a joint performance of two final songs at the Yerevan concert of the world renowned tenor Placido Domingo on December 3, 2010, a concert tour to Vienna, Austria on May 18-26, 2011, and the successful participation in Musica Sacra, the 6th International Competition of Sacred Music in Bratislava, Slovakia on May 26-29, 2011. Paros won 3 prizes at this competition: Bronze Diploma in Chamber Choirs category, Bronze Diploma in Orthodox Music category, and a special prize "For Presenting Armenian Music".

For more information on the Paros Chamber Choir, please visit the choir's official website at www.paros.am.