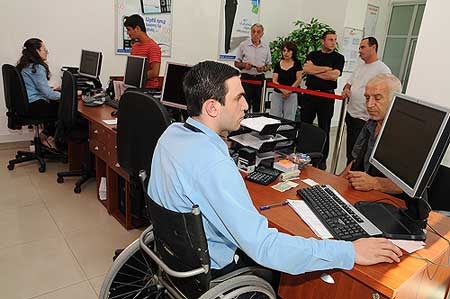 Unison has identified a major challenge people with disabilities face – unemployment. The vast majority of employable individuals with disabilities are not employed even though there are suitable jobs available.

Most employers and many people with disabilities are not aware of the available legislative incentives that promote the employment of these individuals. Many disabled job seekers do not possess the basic skills of resume writing, tips for successful interviews, etc.

Aiming to assist in these areas, Unison has created the first Job Training and Placement Center (JTPC) in Armenia, whose mission is to connect job seekers with disabilities and potential employers. We have developed and maintain a database of employable people with disabilities, which includes all the relevant information (age, kind of disability, education, work experience if available, skills, etc.)

The JTPC helps disabled job seekers prepare their resumes and other documents necessary for applying for a job, as well as provide relevant training (job interview, basic computer literacy.) All services are provided free of charge.

We are proud of our successful record in assisting people with disabilities gaining meaningful employment as part of this training program with such progressive employers as VivaCell-MTS.