Unison NGO for Support of People with Special Needs was established on May 22, 2002. Since its inception, Unison has aggressively designed and implemented many projects and programs for people with disabilities.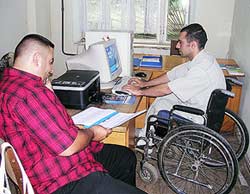 With the goal of allowing people with disabilities to lead an independent and productive life, Unison provides the following services: Art and computer training, legal advice and psychological aid. The organization also assists people with disabilities by providing job training and placement services. In December 2006, Unison launched Armenia's first Center for Independent Living (CIL). In 2007, we established our first regional branch in Meghri, Syunik region. The Employment Center for people with disabilities was officially launched and began operation in May, 2008.

Unison regularly implements accessibility monitoring of cultural centers, polling stations, courts and other public facilities. Beginning in 2007, Unison regularly participates in election monitoring to ensure people with disabilities have access to polling stations.

Periodically Unison organizes round tables, seminars, press conferences, activism, exhibitions, surveys, and beneficiaries' needs assessment. More than 30 people with disabilities involved in Unison participated in international conferences, concerts and other events.



We publish numerous manuals, leaflets, posters, and newspapers, which are distributed among relevant state agencies, NGOs, international organizations, the mass media, libraries, educational institutions and other interested organizations and individuals. Unison produced several video films and public service announcements, which were aired on Armenia's leading TV channels.

The National Assembly and Government of the Republic of Armenia (RoA), RoA Ministry of Labor and Social Affairs, RoA Human Rights Defender, State Employment Agency, Municipality of Yerevan, local NGOs and DPOs, the mass media, various international donor organizations and other major stakeholders acknowledge Unison as the lead organization promoting and protecting the rights of persons with disabilities in Armenia.



Due to financial and logistical constraints, we do not provide:



* Financial support
* Medical aid

Unison also takes a special interest in the development of Armenian Internet resources. In particular, we have created and are maintaining Virtual Museums of Aram Khachaturian (www.khachaturian.am) and Komitas Vardapet (www.komitas.am).